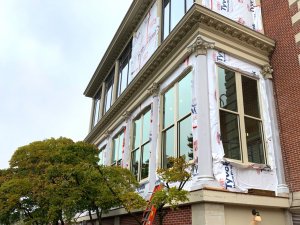 Built in 1871, the Missouri Governor's Mansion in Jefferson City sits proudly near the state's capitol building and on the bluff overlooking the Missouri River. Despite various renovations in the 1980s, the 2-story sun porch of the mansion still contained age-old, inefficient windows. In 2019, Gov. Mike Parson decided to change that by replacing the windows in the sun porch with new Quaker Windows & Doors Historical Series windows.
Working with Architectural Materials Co., an authorized Quaker dealer in Springfield, MO, we are in the process of refreshing one of the most popular rooms in the mansion to meet the high standards expected for this building, which is a member of the National Register of Historic Places.
Quaker supplied our H500 Series Aluminum Single Hung windows (some of which were nearly 11 feet tall and weighing well over 200 lbs. each).  Also needed for the renovation were H500 Series Fixed Windows. Not only do these windows have historical character, they have a historic look. Quaker's custom color capabilities were also able to create a paint color that was a perfect match to the existing windows in the mansion. Additionally, the glass had to be multi-functional and Quaker delivered there too.  Custom insulating glass manages the solar energy coming in, maximizes energy efficiency, reduces sound transmission and has safety in mind, a definite necessity for the home of Missouri's highest official. While this renovation is still underway, we are excited that Gov. Parson placed his trust in his home-state Quaker Windows & Doors to provide views from this sun porch for the many generations to come.