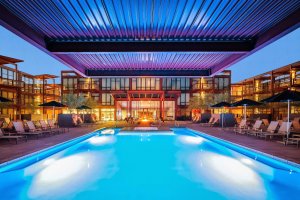 Freeburg, Mo.–– Quaker has added two new high performance architecturally rated Terrace Doors to its M600 Series of products to satisfy the industry demand for superior quality . The M603 Out-swing (AW70) and M602 In-swing (AW50) Terrace Doors feature a 4-1/2" Framing system, 1" insulating glass pocket, out-swing low profile sill, out-swing and in-swing French doors and sidelite options.
"Expanding our architectural aluminum door offering is part of our strategic growth plan for 2019", says Quaker CEO Kevin Blansett. "We've completed construction of a new manufacturing facility this year, which has allowed us to expand and invest into new automation for our M600 architectural door systems", Blansett explains.
Quaker's growth and expansion plans have included breaking ground for a new 200,000 square foot commercial and architectural products production facility in Eldon, MO in November 2018, the opening of a 185,000 square foot facility in January 2018 for high performing wood windows and doors, and the expansion of the ModernVu/M600 Architectural Aluminum Door line into the former wood facility in 2018.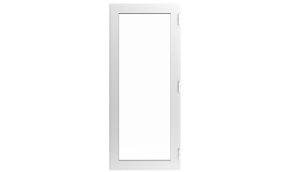 The M603 (12lb. water) and M602 (10 lb. water) Terrace Doors have been designed with very narrow sitelines to satisfy the design flexibility and natural daylighting desired by architects. Quaker architectural aluminum design utilizes Azon thermal break technology to maximize thermal performance and strength.
Quaker employs electrostatically applied powder coat baked on paint finishes that adhere to ANSA/AAMA 2604 and 2605 standards and virtually eliminate Volatile Organic Compounds (VOCs) from the painting process.
Other products in the M600 Series include––Casement Project Out, Awning Project Out, Fixed style windows and new Sliding Door Series.
About Quaker
Quaker Windows and Doors will be celebrating 70 years in business in 2019. Headquartered in Freeburg, Missouri, Quaker is a family owned business originally founded by the Knoll family in 1949.
Quaker, a leading national manufacturer of Aluminum, Wood and Vinyl Windows and Doors for the Architectural, Commercial and Residential New Construction, Replacement, Historic, Blast and Impact Resistant markets. The Quaker window and door product portfolio includes –– Single Hung, Double Hung, Sliding, Awning, Hopper, Casement, Fixed, Impact, Geometric Shapes, Specialty, Bays/ Bows, French Doors, Sliding Doors, Folding Doors and Entry Doors.
The complete line of Quaker custom designed products, options and accessories are designed to satisfy projects in a variety of market segment including–– Single Family, Multi-Family, Education, Hotel/Motel, Office, Healthcare, Government, and Assisted Living.
Quaker is an active member of both WDMA, AAMA and an EnergyStar Partner. Quaker also works closely with Architects, State and National Park Services concerning Historic Renovation Design and Tax credit opportunities, in order to ensure that their extensive Historic product offering meets and exceeds standards and guidelines set for Historic projects throughout the country.
Quaker has continually set a very high standard of Quality for all of their products. That dedication to providing the best products in the industry has resulted in continuous Product and System Design Innovations, Green Enrichment Initiatives and a Mission of Continuous Innovation, Improvement, Integrity and Total Customer Satisfaction.
For more information, email Quaker at [email protected], visit our website at www.QuakerWindows.com. You can also contact Quaker at (800) 347-0438.