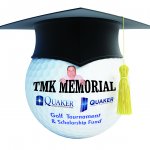 Quaker Windows & Doors annual TMK Memorial Scholarship Fundraiser and Golf Tournament is always an exciting time of year. Representatives from Quaker's authorized dealerships, vendors, suppliers, outside sales reps, and Quaker team members converge for the annual  events, which include tours of Quaker's plant & facilities, a Meet & Greet dinner, and culminates in a golf tournament with BBQ lunch.
Quaker is also celebrating their 70th year in business in 2019, which brought even more reason to celebrate with their customers at this event. During the Meet & Greet event on Wednesday evening, Quaker recognized their longest tenured customer and authorized dealers for helping grow Quaker into the company it is today. Specifically, Wilke Window & Door in Belleville, IL, was credited with being a Quaker authorized dealer for more than 60 years – longer than any other.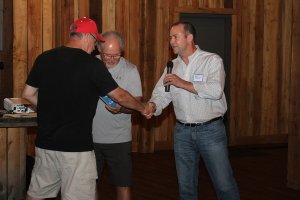 While these events are Quaker's special way of honoring and remembering the memory of the late Tom Knoll, a co-owner of Quaker Windows & Doors at the time of his passing. It is important to note, that the main goal of these events is to raise funds to help provide scholarships to many local high school seniors to continue their pursuit of education at the college level. To date, the TMK Memorial Scholarship Program has awarded more than $100k in scholarships to over 80 local high school graduates.
As Kevin Blansett, Quaker's CEO, stated in his remarks during the events, "Time will never end as long as we are investing in our future." A sentiment he quoted as being instilled in him by the late Tom Knoll who would regularly quote a passage written by Shakespeare…
Tomorrow, and tomorrow, and tomorrow, Creeps in this petty pace from day to day, To the last syllable of recorded time.
This sentiment is resonated throughout Quaker by it's employees and management alike in our daily investment towards making the Quaker Difference. Whether it be through scholarships to the youth in our community, or in developing the latest technological advancements in windows & doors, Quaker is investing in the future. We are investing in Tomorrow.
Last, but certainly not least, we also want to extend a special Thank You to the following sponsors who helped to make this event happen. We couldn't have done this without you!